We use different methods to characterize the visual systems of birds. For instance, we use a ophthalmoscopic technique to measure the visual fields.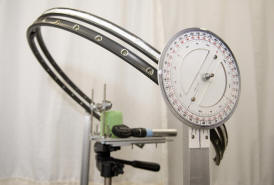 This is basically an eye exam similar to the one the optometrist (eye doctor) performs on humans. We use a visual field apparatus and placed a bird at the center of it. Then, we measure the extent of the visual field of each eye with an ophthalmoscope at different elevations around its head. The area in which the visual fields of both eyes overlap is called the binocular field; the areas without overlap (one from each eye) are known as the lateral fields; and the blind spot behind its head is called the blind area. With this information we can build a schematic representation of the visual in two dimensions (a top view around the bird's head at the level of the beak) or three dimensions (a sphere around the bird's head).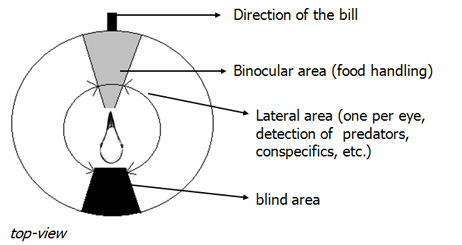 Previous: What we do in our lab Next: How birds eat?