Now that we know the differences among visual field types and how birds move their bodies (head-up and head-down), we can ask what these species would be able to see while foraging head-down. This is a very important question, because animals need to maintain a certain level of vigilance to avoid being caught by predators. If a bird can only see in front of its beak but cannot see peripherally while head-down, then it has to adjust its vigilance behavior to reduce the chances of predation.
If we examine the three species we have been talking about (owl, starling, mallard), we can conclude that the owl will have the most restricted visual field due to its large blind area while head-down, with low chances of seeing peripherally. However, the owl is a predator itself, so it may not need to adjust its vigilance behavior.
How about the starling and the mallard? Both have peripheral vision, as explained before. However, the mallard has a larger visual field than the starling. Then, the mallard may be able to spot for predators even when head-down foraging. The starling has a slightly more restricted visual field, which could give it some peripheral vision, but limited. Therefore, we can predict that the starling would have a higher frequency with which it goes from head-down to head-up postures than the mallard to compensate for the more restricted visual field.
Starling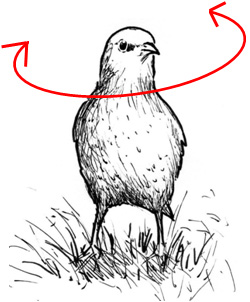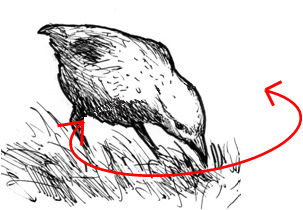 Mallard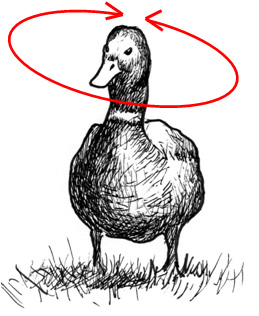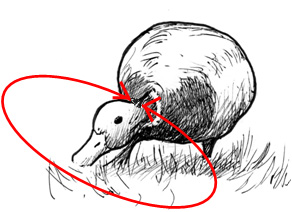 Maybe next time you go to the park, you may want to check this prediction if you find starlings and mallards (if so, count the number of head-ups per minute while these species are foraging and then compare them).
Previous: Visual field types Next: Gaze and head movement